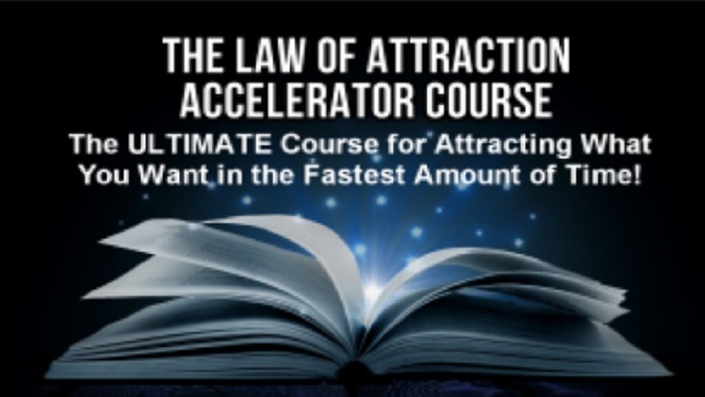 Law of Attraction Accelerator Course
The Ultimate Course for Attracting What You Want In The Fastest Amount of Time!
Watch Promo
What if we told you that attracting what you want could be so much easier than it currently is?
Not only that, what if we told you that by applying a simple Law of Attraction process you could attract what you want FASTER than ever before?
The key to manifesting what you want easily and in the fastest way possible has to do with 2 main things....Influencing the subconscious mind and changing the self-image.
You see, science shows that over 90% of our lives are run by our subconscious mind.
This means even if you are consciously focused on your desires, if you haven't reprogrammed your subconscious mind you will experience "blocks," "resistance," and "things falling through."
Any block or resistance you are currently experiencing is due to the subconscious mind not being in alignment with what you want to manifest.
The problem is, most of our self-image and subconscious mind has been programmed by the age of 12.
This poses the question…
How in the world do we reprogram:
-Decades of formed negative beliefs,
-Years of feeling resistance,
-Countless reference experiences affirming what we don't want,
-And a self-image that has been wired in since childhood?
We created a powerful solution that will allow you to EASILY do all of this in the shortest amount of time possible.
We do this by applying what we have learned from working with 1,000's of clients and teaching them to accelerate the law of attraction process by changing both their subconscious mind and self-image.
We do this by giving you a step-by-step process that allows you to COMPLETELY let go of your old self-image. You're then able to wire in the new one of your choosing using the meditations, exercises and visualizations given. These reprogram your subconscious mind so that you attract what you want faster than ever before!
-You will learn how to change your subconscious beliefs so that you remove resistance and blocks holding you back.
-You will learn how to reprogram your beliefs about money so that you effortlessly attract more abundance.
-You will learn how to feel 100% whole and complete so that you attract the perfect person into your life.
-You will learn how to visualize using powerful techniques that will help you embody the emotions you want NOW so that you begin to experience the miracles you deserve.
Most importantly, the main intention of this whole program is that by the end of it you will feel like a COMPLETELY new person…
-You will be someone who sets intentions and experiences AMAZING synchronicity in life.
-You will be someone who feels like they can ALLOW life to unfold due to alignment with who you prefer to be.
-You will be someone who lives in abundance and gratitude.
-You will be someone who has 100% trust in the support of the Universal law of attraction
And most importantly…
-You will be someone who feels grateful to wake up every morning knowing you can choose to create your life from a place of empowerment and purpose. Its who you really are…
A powerful way to say yes to your new self-image is to join our Law of Attraction Accelerator program by clicking on the button below.
By doing this you are taking the first step towards the new you, and from there we can help you create the life you really want to live.
Some of the Most Successful People in the World Use The Tools Given in This Course:
Oprah Winfrey
"If the energy & vibrational frequency is correct, is in sync with what is to come our way, there is a space you create that allows that to happen."
Tony Robbins
"It is in your moments of decision that your destiny is shaped."
Will Smith
"You just decide what it's going to be, who you're going to be; you just decide. Then from that point, the Universe is going to get out of your way."
Ellen DeGeneres
"Find out who you are and be that person. That's what your soul was put on this earth to be. Find that truth, live that truth, and everything else will come."
Steve Harvey
"If you are waking up with the sensation that there has got to be more in life, then there is."
Conor McGregor
"When you have a vision, and you see that vision come true, it really only shows you that anything can happen; you can do it all."
Esther (Abraham) Hicks
"The greatest gift you can ever give another person is your own happiness."
Jim Carrey
"It is better to risk starving to death than surrender. If you give up on your dreams, what's left?"
This PRACTICAL Course Can CHANGE EVERYTHING About YOUR LIFE!!
This course is designed specifically for those who want to learn how to ACCELERATE their manifestations with the law of attraction. Throughout this course, you'll discover the key factors to making the law of attraction work for you in the most optimal way so that you release subconscious blocks and manifest what you want. Here is what you can expect...
✔Learn how to create a dynamic self-image that will IMMEDIATELY change your life so that you attract what you want faster than ever.
✔ Discover ways to STRENGTHEN your visualizations so that you finally feel like the manifestation process is easy to apply.
✔ Expose hidden money programs that BLOCK you from manifesting the freedom you want from life so that you accelerate attracting EXACTLY what you want.
✔ Become a vibrational match to the relationships you want so that you attract the perfect partner, or simply nurture the existing relationships in your life.
✔ Receive advanced meditations with dual-induction sound technology for accelerated manifestation.
✔ Practical worksheets to assist you in being active within the process of manifesting what you want.
✔ LIFETIME Access to the Course!
✔ Feel completely safe and secure as you place your order, knowing you can get a full refund in the next 30 days if you so choose.
Recent Results From Clients Who Went Through the Beta Launch
"Going through this course was worth every minute I spent applying these tools. I never realized how important it was to change how I felt about myself so I could have the things I want in life, and I have had many breakthroughs recently. Thank you for making the information easy to understand and apply!" -Natasha D.
"I'm so happy I went through this course. I can see an immediate difference in myself and how life now treats me. Highly recommended to anyone that wants to create their life in a very specific way." -David L.
"As you go through this course, you should feel a change almost instantly. The presentation is amazing and the ideas are fresh. I feel as though I have literally re-invented myself! I look forward to making the information a part of my daily lifestyle from this point forward. Whatever you want to know about manifesting the things you want is all wrapped up in this tidy and practical course." -Calee V.
"I had no idea how far off my "money program" was. Once I understood this and worked on it, I was able to open myself to new opportunities to change my income. This course has answered many questions I had about manifesting and I am very grateful to have gone through it." -Michael F.
Course Curriculum
Introduction
Available in days
days after you enroll
Self-Image - Why it's so Important & How to Make Yours More POWERFUL!
Available in days
days after you enroll
Visualization - The Benefits of Visualizing Correctly & How To Do It
Available in days
days after you enroll
Your Instructors
Aaron Doughty is a proficient law of attraction coach. He specializes in teaching others how to expand their consciousness and open their minds to new ways of viewing themeselves and their reality. The techniques and delivery he offers exceed the law of attraction information that most are accustomed to hearing.
Jessica Connor has a Ph.D. in Philosophy with a practitioner's license to counsel. She specializes in holistic life coaching, science of the mind principles, the law of attraction, quantum physics, neuro-linguistic programming, metaphysics (Master's Degree), the science of success, energy healing, universal laws and advanced meditation techniques. She is also an ordained minister of the Metaphysical Ministry.
Frequently Asked Questions
How is this different from any Youtube videos I could watch?
The difference is that many times people watch so many videos with so much different information that it becomes information overload. The key to influencing the subconscious mind is a consistent step-by-step process that can easily be applied. Thats what this program is -- a powerful process for influencing the subconscious mind (which runs over 90% of our life.) You change that, and everything will change.
How long will it take to see results?
For the people who went through the beta-version, most of them said they began to feel different within the first week or two of starting the program. One person attracted getting the job she wanted in the 2nd week, while another person attracted someone he is now dating. The main focus is changing your self-image which will then change the external reflection you get in life. It will depend on the person, and if you are committed to applying the process we are confident you will feel and see the results you desire.
Is this course worth the price?
Absolutely! We believe this course is the equivalent of getting 3 months of coaching from either of us. Right now, coaching would cost around 300 dollars per month, and if you multiply that by three you'll see that you are getting great value for your money.
When does the course start and finish?
The course starts now and never ends! It is a completely self-paced online course - you decide when you start and when you finish.
How long do I have access to the course?
How does lifetime access sound? After enrolling, you have unlimited access to this course for as long as you like - across any and all devices you own.
What if I am unhappy with the course?
We would never want you to be unhappy! When you have completed this course, if you are unsatisfied with your purchase, contact us with the proper documentation within the first 30 days and we will give you a full refund.